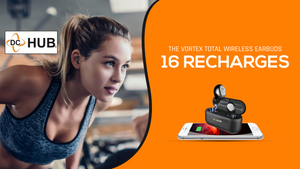 tHE vorteX EARBUDS - qUALITY aT ITS FINEST!
The VORTEX has proven to outperform other recognizable name brands on every level, making the quality of these special earbuds second to none. With 96 hours of playtime and a crisp, clear Hi-Def stereo sound, it will make a believer out of you! Get yourself a pair of VORTEX earbuds today and see what everyone is talking about! CHECK OUT THE VORTEX TWE!
---
THE ONE AND ONLY DC HUB EARBUDS
Hello, we would like to introduce you to our DC HUB VORTEX.  These earbuds are engineered with the best wireless technology on the market that provides the most stable connection and incredible listening experience possible. 
The DC HUB earbuds have been tested and compared with the most notable, top name brand headsets in the industry and by far have exceeded and outperformed the competition.  They are tried and true. With the unmatched extra bass and clean treble sound our earbuds offer, the quality and personal audio experience is second to none.  The affordability, comfort, reliabilty and versatility of our earbuds are exactly what the customers wanted, and we listened. The timeless DC HUB earbuds have also been crafted with coveted noise cancellation features, which means all you hear is what is in your ear! To get the DC HUB experience we speak of, you HAVE TO TRY IT FOR YOURSELF!  You will not be disappointed and you will be happy to pay almost half the cost to purchase a fine and high quality product versus just paying for other name brands of inept and low quality earbuds.  DC HUB is the new name for earbuds so be sure to get your pair today!